CRAWLEY A.I.M. CHARITY 6 & 12 HOUR RACE 26th APRIL 2014
It's midday on Saturday 26th April and 38 people are running around Crawley Athletic track at the K2 Leisure Centre and we are watching something special happening, although none of us actually know it is happening. A British record is in the process of being broken, smashed even.
The Crawley 6 & 12 Hour races organised by Pam Storey have been running since 2006 but this year sees the strongest field yet, with the Team GB 24 hour squad organising their team to coincide with the event and give some of their athletes a chance to prove that all the hard work over winter is paying off.
The 12 hour race sets off at 07:00 and the tall figure of Marco Consani is soon gliding along out in the front, clocking up his laps with a smile on his face and relative ease in his stride. Marco's better half, Debbie Martin-Consani, is moving steadily too, with fellow GB athlete Karen Hathaway in close proximity.
It is not the front runners who are the most inspiring at Crawley today though as Keith Scrivener, a regular at the event, is moving steadily around the track, a bit slower than others but with all the grit and determination in the world. It is only 8 months since Keith suffered a stroke which greatly limited his movements but, an owner of a 100 marathon club vest, Keith is powering through and showing the others what it truly means to push to your limits.
The 6 hour race starts at 10:00 and more runners are unleashed onto the track, with Adam Holland flying off at 6 minute pace, evide
ntly with records in his mind. The fantastic trio of Emily Gelder, Sharon Law and Fionna Ross set off at a more reasonable pace, bearing in mind it is a 6 hour race.
Time passed and the crowd, consisting of family, friends, former World Champions, Spartathlon winners (although one of them was racing too) and lap counters, got to see the excitement of the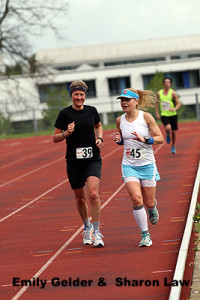 turnaround at 1:00 pm, when everyone starts running in the opposite direction to prevent them leaning over too much!
Adam Holland has slowed dramatically from the start and Emily Gelder is burning up the track in pursuit, showing a brilliant display of pacing that you would expect from a 24hr racer. Fionna and Sharon are not too far behind but the question is will there be enough time for Emily to catch Adam or will his early burst have been enough?
Keith has clocked a commendable 17.6km (10 miles 1648 yards) and he will go from strength to strength in the future with his brilliant work effort towards recovery. The Scottish husband and wife team are still going strong in the 12 hour race and Debbie is on to break the Scottish record, whilst Marco wastes half his energy waving and thanking everyone for their support each lap and still he is on for the course record.
Adam (72.9km/ 45 miles 520 yards)) grits himself to keep moving forward towards the end and follows in the footsteps of Debbie for the final couple of hours to just about hold Emily (70.9km/ 44 miles 520 yards)) off but it was merely a matter of time before
she would have caught him. The longer the race the better the ladies are at beating us hot-headed chaps who shoot off too fast!
It's not until the final hour that one of the Team GB crew decides to check what the British record for 12 hours is and, seeing as the current holder, Eleanor Robinson, has just gone home, there is some excitement when we realise Debbie is on course to take it! All day something fantastic has been happening and nobody even knew!
It goes down to the wire, one of Debbie's toenails protests and causes some issues and Marco tries to help with some distant pacing just ahead, but Debbie is strong and moves well past the 128.4km record and runs 129.171km/80 miles 463 yards before collapsing to the track as any true runner should! Karen Hathaway isn't far behind with 127.304km/79 miles 181 yards.
Marco looks really comfortable after his 145.570km/ 90 miles 797 yards effort, enough for 2nd in the World this year and making him a really great prospect for the World Championships in Soochow in December.


It's a great day for team GB and for everyone at Crawley with solid performances throughout the field. To keep moving for 6 or 12 hours around a track takes great mental and physical strength and this was shown in abundance. Pam Storey is devoted to seeing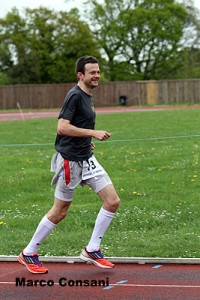 British ultra running go from strength to strength and to see such strong performances at one of her events is fitting to the effort Pam puts into organising races.
If anyone wants an even greater challenge Pam is organising the Gloucester 24 hour track place which is taking place on the 14th of June. We could do with a couple more gents for Team GB if you can make the qualifying standards!
Entries can be made via the race website www.gloucester24hourtrackrace.com
Robbie Britton